Reading a great book and then being disappointed watching the movie that was taken from the book is often a great disappointment. Revisiting a country after 15 years, not to mention back in 1975 when the world was a different place, can be just as disappointing.
and I found this to be true for me in Morocco..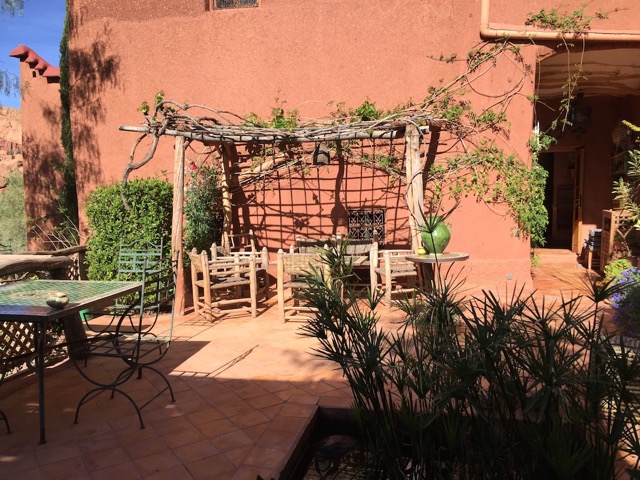 Revelations, Observations and Tourism
Every time a Moroccan greeted us and usually with a big smile, I wondered if anyone had ever been to a dentist. Broken teeth, rotten teeth, or no teeth.  In Cameroon, many in rural areas don't brush their teeth, but they are not eating processed food or candy, rather home grown vegetables, rice and corn. Only in the last few years, are they drinking sugar drinks and young people are having dental problems.  I had actually given a third grade class in Meli village 200 dental floss samples donated by my dentist. Unfortunately at least 100 kids in the class raised their hands when i asked how many did not have a toothbrush. The cost of one is $.20 but for a family of 8, living on a dollar a day.. ……
Here in Morocco, the dental condition of almost everyone over 20 years old is appalling.  In our small hotel  in  the mountains of Chefchaouene,  I asked the young night manager if he brushed his teeth twice a day.  He laughed and said sometimes he forgot. I insisted he stop forgetting.
The journey through Morocco has been challenging.  Since my first visit in the seventies and my second in 2001, Morocco has been transformed by the king and the onslaught of tourism into a completely new country.  Marakesh is swarming with tourists and riads and carpet sellers and bad restaurants. We hired a guide to enlighten us on the famous Moorish monuments in the medina. As we pushed our way through the crowds, I watched a line of 30 people with headphones, following the tour leader as she spoke into her microphone.  Our first riad in Marakesh was beautifully restored and the management was so helpful.  My second booking in Ouarzazate was an old house at the end of an alley in neighborhood far from the center of town.  Another misleading booking .com review left us without a place to sleep.  Our taxi driver took us to a hotel that had  been popular in the eighties but had fallen into physical and financial ruin when tourism fell off in 2008.   Reminding me of hotels we found in Cuba in 1995, it was clean enough except for the water cockroaches in the bathroom.
Ouarzazate is not a tourist destination; it's on the way to other places. Most people are going to the desert town of Zagora to sleep in a tent and ride a camel. Others are going to the gorge to trek in the mountains with a goat or a guide.  But the town will soon be transformed with financial support from the Moroccan government, the World Bank and Saudi Arabia, when the construction of  one of  the largest solar power stations in the world is completed. .
https://en.wikipedia.org/wiki/Ouarzazate_Solar_Power_Station
The other bit of information we collected was the history of the Moroccan Jews in this town, with a cemetery and a synagogue.  The most bizarre gossip we heard was that Hillary Clinton had a Jewish Moroccan grandfather and had come to visit his grave. The actual truth is, this was the second marriage of her grandmother; he was the step grandfather but our Moroccan driver keep telling us that Hillary is one of them.
No we don't want to take a picture of the door of the king's palace". Even after I screamed in French for five minutes, our guide/ chauffeur still did not understand why we had hired him.  Hoping to visit small villages and wander around with our cameras, we ended up in all the tourist locations.  Beware of drivers recommending hotels, guesthouses and restaurants. They earn commissions on all the travelers who become customers.
Remembering the magical Valle du Dades from 2001, I was again disappointed with the rapid development of tourism here. There were hotels and more hotels and our guide had sworn by the casa he was taking us to.  The guest house was on the main road in the valley between villages. We had no car and I walked out.  Grabbing the Lonely planet guide, my eyes gravitated toward a starred entry, Kasbah de Mimi. I read the words, " save yourself  the trouble of cultivating friends with fabulous country houses" We called , a French woman answered the phone, the guide said it was expensive, I said let's go .  We drove down a curvy dirt road on the edge of a cliff and buried on the side of the hill was the Kasbah de Mimi.  A elegant older French woman opened the gate and we entered this magical country house that could have been in the Loire Valley.  A mélange of French and Moroccan décor, the building sat at the bottom of a small Moroccan village of ninety inhabitants. There are five guest rooms, a small swimming pool that looks into the valley, a landscaped garden demanding magazine recognition and an outdoor patio for dining.  Our host was also an excellent cook and all the guests dined together in the evening.  There were the Italians from Florence and the wonderful French couple, who had lived in Mali, and Burkina Faso for 17 years. We wandered in the valley and visited the waterfall. After two days, j'etais desole to leave.
The next leg of our journey we opted for a private car since the journey was at least eight hours long vs a twelve hour bus ride.. We realized on the road that our  driver, hired by the guest house, spoke only Moroccan Arabic and had never driven  more than three hours from his village.